"Wow!  We had a wonderful time on Saturday."
          During breakfast, the ladies introduced themselves and immediately bonded over mutual goals and aspirations of one day becoming renown inspirational speakers.  Together they discovered that their dreams are 'indeed' possible, if they just believe in themselves.  They encouraged each other with positive critiques and words of inspiration.  Meet Shantella Marshall who shared her first speech during our "Breakfast and Chatter" empowerment session.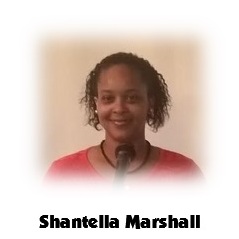 Shantella shared how a close friend had challenged her one day to write a letter to herself.  She revealed that by writing this letter to herself, it uncovered some hidden desires and goals she aspired in life.  We got the special treat of her sharing the letter with us during her speech.

There was this magical moment that occurred, as she was reading. Suddenly, we all began to comprehend the hidden peace that God has placed in each of our hearts. "Thanks Shantella" for inspiring us to search out God's hope through self-reflection in our own letters one day.

Jeremiah 29:11 

For I know the plans I have for you, declares the Lord, plans to prosper you and not to harm you, plans to give you hope and a future.
More inspirational speakers from our "Breakfast and Chatter" empowerment session.